Hi guys, it's me Obadiah! Here are the costumes that me, Malachi, and Mommy wore for Halloween. I'm batman, Malachi is a fireman, and Mommy is a butterfly, she's so pretty but her wings kept poking our eyes out. Daddy said he was dressed up like a jogger, but all he did was put on his sweatpants and running shoes. Actually, I don't think I've ever seen Daddy run though.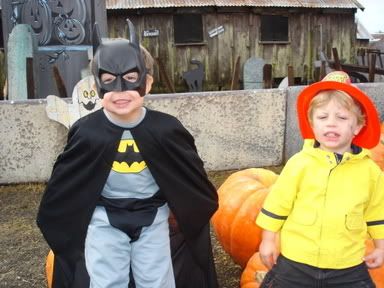 Here we are at the pumpkin patch in front of the haunted house. It looked pretty scary so Malachi and Mommy stayed out front so Daddy and I could go in. I'm a pretty big boy so it didn't scare me at all. We had lots of fun at the pumpkin patch!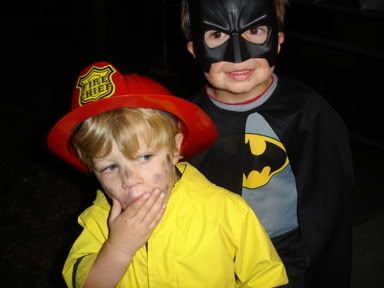 We went to the Harvest Party at church and then went trick or treating! It was cold and dark, but who cares? WE WERE GETTING FREE CANDY!!!!! It was so much fun. I think I really like this holiday. We were all smiles for this picture, but we ate so much candy that a little bit later I almost barfed! Good times.