Hi you guys. We've been super busy and it's been a long time since we updated you on what we've been up to so we wanted to share some pictures and video with you. First I wanted to update you on school. I LOVE IT!!!!
It's been so fun and I'm making new friends all the time.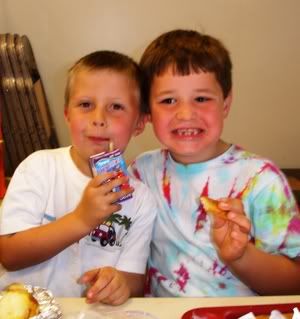 Here's me and my buddy Nicholas goofing around at the cafeteria!
That was a special day. We went on a field trip to pick out pumpkins!
I was also the "Star Person" for the week! That means that I got to be in the front of the line wherever we went! I had a really good time being the star person!
We also got to go on a hayride! It was lots of fun! Then I found the perfect pumpkin! Do you like it?!?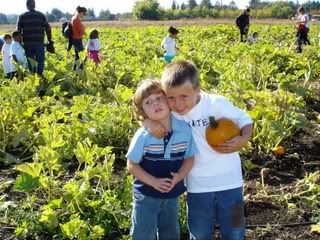 Malachi got to come with me because it was a special field trip day. He freaked out Daddy though. He got on the hayride with a bunch of kids from another school when Daddy wasn't looking. Daddy kept calling out, "MALACHI!!!" Then when we looked everywhere and couldn't find him, Daddy full on FREAKED OUT!!!
Daddy was about to call in the authorities when the hayride came back around and there was Malachi, happy as could be, sitting right on the back of the hayride. BUSTED!!!
Here's me and Nick being goofy again!!!
After the field trip we went back to the school and learned some new stuff for a while. My daddy video taped us singing the months of the year in Spanish! Click on the video to hear us sing!!!
After a long week at school we needed some time off. So we went to the Boardwalk at Santa Cruz!!!
This was the only roller coaster that we could all go on together. Malachi and me can't ride all the rides yet. We're too short. But this one was pretty fun!
This ride was pretty fun too! We had a control stick that we could pull on and it would make this plane go SO HIGH in the air!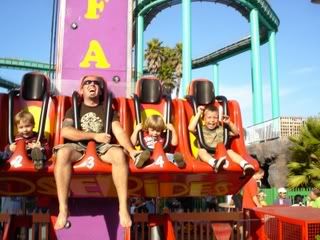 This ride jerked us up and down so fast! Malachi got freaked out, but me and dad were laughing our booties off!!!
After we rode the rides for a while we went down to the beach. There were seagulls and pelicans and jellyfish, and we even saw a few sea lions!!! But there was one thing we liked the best! We would run up to the edge of the water and wait for a wave to come crashing down then we would run as fast as we could to get away from the water. It didn't always work. Malachi kept falling into the ocean!!! I fell down a few times too. We got so cold and wet! But it was so fun!!!
We always have a great time hanging out and loving on each other!
We decided to wait until the sun set before we went home. It was really pretty.
We had a great weekend!